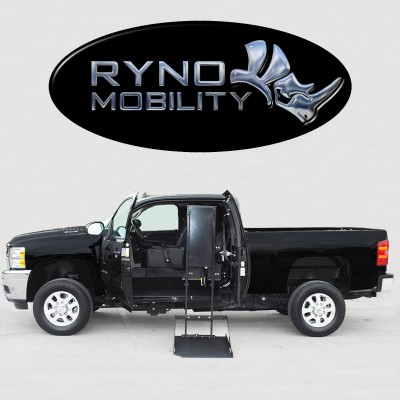 Ryno Mobility Rear Entry
This user friendly conversion offers customers an affordable and reliable mobility solution. The 29 ¼" wide ramp will allow most any wheelchair to enter with ease at just an 11 degree ramp angle. Once inside the wheelchair user has an unprecedented 57 ½" of interior height, while still leaving over six inches of ground clearance. With the Manual ramp, this conversion becomes the most cost effective and reliable solution for wheelchair users that travel with an attendant. Call or stop in today for more information on the Ryno Mobility Rear Entry!
Ryno Flexibility:
The Ryno Mobility Rear Entry conversion offered two rear seating options. A customer can choose between stationary bucket seats (with 22" in between) or they can have the OEM bucket seats attached to a flip and fold seat base. (offering up to 32" of space between)
As usual with a rear entry conversion, your parking options are significantly expanded. Because you enter and exit from the rear of the vehicle, you can park in any standard parking space, with the exception of parallel parking, without having to worry about ever being stuck outside of your vehicle again.
A variety of seating options can be installed to best meet your needs, based on the number of passengers you need to accommodate. Depending on the vehicle, seats can be folded or replaced to better fit additional wheelchair or ambulatory passengers.
With multiple wheelchair tiedown anchor positions and a flooring layout compatible with any power tiedown system, the Ryno Mobility Rear Entry conversion offers users the ability to ride in the position that suits them best!
For more information please reach out to one of our knowledgeable mobility consultants!