Automotive Transfer Seats
Keystone Coach Works offers a complete line of Automotive Seating products which allow you to effortlessly transfer or enter and exit your vehicle. Best of all, these great products can be added to most types and brands of vehicles, including sedans, SUVs, wagons, crossovers, vans and pickup trucks. Specialized automotive seating can change the way you travel. We install Adapt Solitions XL Base, Link seating and Braun Evo Seats.
BraunAbility Turny® Evo Seat Turning Automotive Seating
BraunAbility Turny® Evo Seat seats are designed for your independence when entering and exiting a vehicle. With the push of a button, the BraunAbility Turny® Evo Seat rotate, extend outside the vehicle and lower to a comfortable height. Getting in and out of your vehicle is safer and easier than ever.
Power Transfer Seat Bases
Power Transfer Seat Bases for full-size & wheelchair accessible vans allow users capable of self-transfer to ride or drive from the OEM factory seat. While providing multi-function 6-way adjustment, all factory seat adjustments and functions are left intact.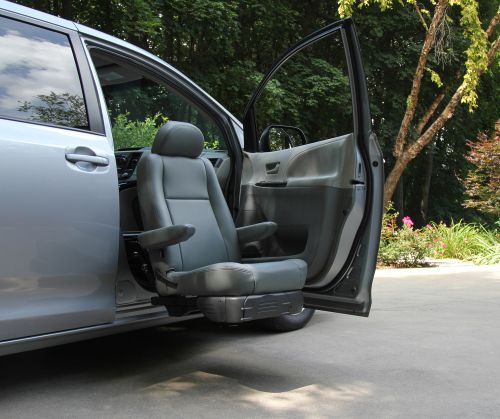 BraunAbility Turny® Evo
Get Seated Easily and Safely The BraunAbility Turny Evo is a rotating seat lift for SUVs, trucks and vans that moves completely outside the vehicle and lowers it down to your desired level. This makes it easier for you to sit down or transfer from a wheelchair. Once you're seated, push a butt...
Learn More
Adapt Solutions
Safety is something we all expect when looking at mobility solutions. Adapt Solutions is proud to be the first seating manufacturer to participate in the FMVSS Compliance Review Program in the industry. This means we are willing to prove the hard work we put into offering the safest and most reliabl...
Learn More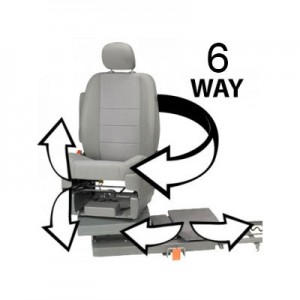 Interior Wheelchair Transfer Seat Base For Minivans
Power 6 Way Transfer Seat Base B&D manufactures transfer seat bases for both the driver and passenger positions for virtually all makes of minivans and full size vans. We work closely with the wheelchair van conversion companies to understand their design requirements. Transfer Into The Dr...
Learn More